The Therapy Sessions
Sunday, March 07, 2004
Kim Jong Il's candidate
This is interesting:
In the past few weeks, speeches by the Massachusetts senator have been broadcast on Radio Pyongyang and reported in glowing terms by the Korea Central News Agency (KCNA), the official mouthpiece of Mr Kim's communist regime.
How banal, ridiculously boring, and noncommital do your speeches have to be to get them read on North Korean radio?
Kerry couldn't have mentioned anything about freedom, American values, or the importance of standing up to aggression. He couldn't have talked about his (questionable) pride in being an American, the unique role of the US in the world, or the benefits it bestows on its citzenry.
In short, all he could have been doing was criticizing Bush without providing any clear alternatives. That is the only way his musings could play on North Korean radio.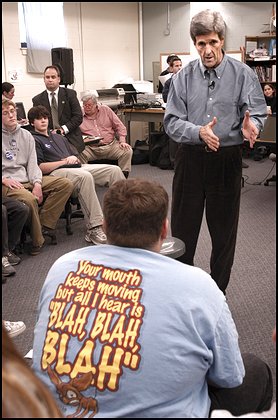 The apparent enthusiasm for Mr Kerry may reflect little more than a "better the devil you don't know" mentality among the North Korean apparatchiks. Rather than dealing with President George W. Bush and hawkish officials in his administration, Pyongyang seems to hope victory for the Democratic candidate on November 2 would lead to a softening in US policy towards the country's nuclear weapons programme.
Message to Democrats: even the government of North Korea (now undisputed as the worst government on Earth) considers you to be a bunch of pushovers.
The Democrats are so dense that they will consider an endorsement from the world's worst dictator to mean that they are more reasonable than the Republicans. And another learning opportunity will be lost on them.